Altrincham Grammar for Boys students celebrate outstanding A level results - 2023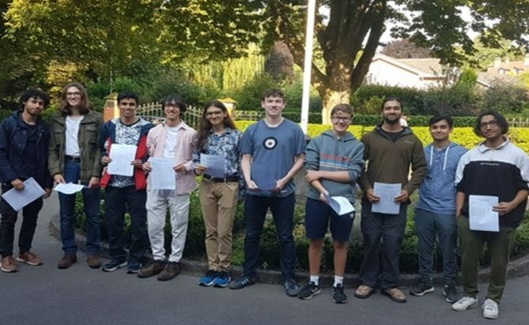 Huge congratulations go to the Class of 2023 on an outstanding set of A level results.
The last few weeks have seen a number of stories in the media about grade deflation and the large national drop anticipated in A level results this year. We are therefore very pleased to report that results at AGSB have remained consistent. 28% of grades were at A*, 64% were A*-A and 85% at A*-B - a higher proportion than in any year before 2020. The average grade awarded was an A and 19 students achieved A* for all their A level subjects.
This year group have had to demonstrate real resilience over the last four years and these results reflect the ambition, positive attitude and hard work they have demonstrated throughout their time at AGSB. We are thrilled that so many Year 13 students achieved the grades required to progress to the next stage of their education at a wide range of high-quality universities.
Graeme Wright, Head Master, said 'On behalf of everyone in the AGSB community, I'd like to congratulate our leavers on these excellent results. They are not only a tribute to the students' hard work and dedication, but also testament to the commitment of their teachers who have prepared them so effectively over the last two years. I wish them all the very best for the bright futures ahead of them."
Labor Omnia Vincit