AGSB Sport for All Campaign: Moving to Delivery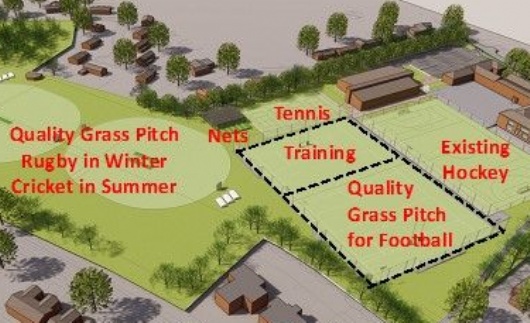 In September 2021, we set ourselves a bold ambition to provide new sports facilities for a variety of sports, all year round, to all students at Altrincham Grammar School for Boys – The AGSB Sport for All – Making a Difference Campaign.
A statement from the Head Master - Mr Graeme Wright:
"The narrative behind this campaign was both urgent and compelling and, as Head Master, I am delighted with the outcome. Many of you will be aware of the challenges we face during the winter months as the fields become waterlogged and our general weekly PE provision, sports training and fixture programme is severely compromised. Furthermore, our summer sports facilities desperately require an upgrade.
Following a fantastic response from the AGSB community and through their kind generosity, well over half a million pounds has been raised to date. The support that a number of Parents and Carers have demonstrated throughout this campaign is truly humbling and this means that current and future generations of students will have the outdoor sports facilities they have deserved for so many years."
The Plan
With the funds we have raised to date we are able to deliver the following:
Rugby / Football
A third-party company will survey, treat and drain all the pitches which will prevent flooding. This will include all grassed areas including rugby pitches, football pitches, cricket wicket/fields, PE practice area and will prevent run-off to new tennis courts, cricket nets and the existing all-weather hockey pitch. All pitches will be treated and maintained to a Sport England standard. This significantly increases the size of the area and the number of pitches that will be usable in poor/wet weather.
Cricket
Add 5 lane cricket nets including drainage and surface infrastructure, a new wicket and pitch covers.
Tennis
Drainage, treat and relay existing tennis courts to latest club standards.
Other Sports
Floodlighting for sports practice area (Physical Education).
New long jump pit (Athletics).
New hockey goals.
New indoor hockey boards (Hockey).
New rugby post protectors (Rugby).
New football goals.