Sports For all Campaign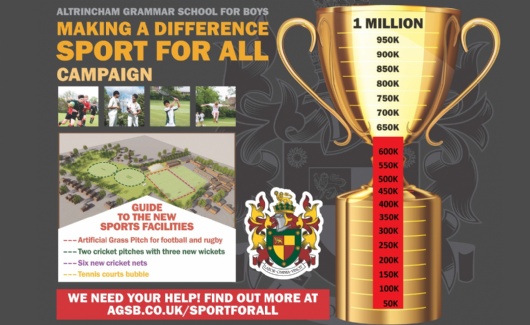 ALTRINCHAM GRAMMAR SCHOOL FOR BOYS FUNDRAISING CAMPAIGN HITS OVER £600,000 FOR NEW SPORT FACILITIES - AIMS FOR FINAL PUSH TO MILLION-POUND TARGET
Altrincham Grammar School for Boys has announced that the school is approaching two-thirds of its million-pound target, in its bid to raise funds for much-needed sport facilities as part of its 'Sport for All – Making a Difference' Campaign.
The campaign, led by parents and the School, aims to raise one million pounds to take AGSB sports facilities to a new level and inspire a new generation of school and community athletes, defying the weather and conditions that can be an obstacle to that goal. The aim is to build a new full-size 4G floodlit football and rugby pitch, new tennis courts, cricket nets and two new cricket squares on the school grounds, all of which can be used by pupils and community alike.
AGSB Headmaster Graeme Wright said "Our 'Making a Difference - Sport for All' Campaign will create facilities that can inspire pupils of every ability, allow extended community use for clubs in the Altrincham area and take the school's tradition of sporting excellence to a new level.
The benefits of sport are well-documented – teamwork, confidence, benefits to mental health – but too often during the winter months our pitches are waterlogged, and lessons, training and fixtures have to be cancelled. As a state-funded grammar school, we lag behind a number of schools in terms of the annual funding that we receive from the Government, so this campaign is vital for the successful future of sport at our school."
"On behalf of the school and the pupils I want to pay tribute to the parents, former pupils, local businesses and others who have already donated. It's now vital that we push even harder to raise the extra amount needed to hit our million-pound target."
Altrincham Grammar School for Boys has a proud history of producing elite sportsmen. Old Altrinchamian Paul Allott opened the bowling for Lancashire and England in the 1980's, more recently, Ali Crossdale plays professional rugby for Wasps in the Premiership and striker Douglas James-Taylor signed for Stoke City in 2020. Brendan Creed and James Mazarelo both represented England Hockey in the 2022 Commonwealth Games and were awarded a Bronze medal. In August 2022, Class of 2022 student Charlie Wardle signed for Sale Sharks and was awarded a place in the senior squad for 2022-23.
Pupils at every level will be able to take advantage of the new facilities through school and after-school clubs, while community grass-roots sports clubs from across Altrincham and Trafford will be able to use the facilities in the evenings.
The plans to install the 4G pitch, cricket facilities and tennis facilities are well under way.
The next Campaign receptions will take place in the new Library, on Thursday 3rd November - All are welcome!
Anyone wanting to get involved or donate should contact Lora Blann (Campaign Manager) lblann@agsb.co.uk